After weeks of rolling around in the grass and running across the park, bathtime is inevitable for your pet. Dog shampoos are a great way to cleanse all of that dirt, debris and sweat off of your dog's fur to keep them looking clean and, most importantly, smelling fresh. But experts told us you should think carefully about what you're putting on your dog's skin and coat, especially if you're bathing them at home consistently.
We spoke to veterinarians and dog grooming experts about how to shop for the best shampoo, what ingredients to look for and what shampoos are best for certain breeds, coat types and skin concerns.
SKIP AHEAD Best shampoos for dogs | How to shop for a dog shampoo | How often should you shampoo your dog? | Tips for bathing your dog at home
Our top picks
How we picked the best shampoos for dogs
The type of dog shampoo you choose can affect how your dog's coat looks and feels, and address any skin concerns they may have. When choosing the right shampoo for your dog, our experts recommend keeping the following factors in mind:
Dog-specific formula: Look for a shampoo that's specifically made for dogs and avoid using a human shampoo since they typically have harsh ingredients that can irritate your dog's skin and strip their natural oils, according to Sharyl Mayhew, a licensed veterinary technician and hospital manager at VCA Healthy Paws Medical Center.
Ingredients: Look for soothing and moisturizing ingredients like oatmeal, aloe vera, coconut oil and shea butter, all of which are gentle enough to use on your pup, according to our experts. Avoid sulfates and alcohols, which are drying and can be toxic to dogs if they ingest them, says Mayhew.
Coat type: Consider your dog's coat type and breed. For example, dry or itchy coats will benefit from soothing and hydrating ingredients like oatmeal, aloe vera and coconut oil, according to our experts. If your dog has an oily coat, you should still look for a hydrating shampoo because they may be producing more oil to overcompensate, says Los Angeles-based dog groomer Jess Rona. For long-haired or curly-coated breeds prone to matting (think havanese and poodles), consider adding a conditioner or cream rinse to their bathing routine. We go more in-depth about coat types below. 
Skin concerns: If your dog has sensitive or very dry skin, look for fragrance-free oatmeal or aloe vera-based shampoos that have skin-soothing properties to prevent irritation, according to our experts. Those with very sensitive skin may benefit from a medicated shampoo as recommended by their veterinarian. You should also limit how often you bathe your dog (typically once every three months, but no more than twice a month) since it can irritate and strip their skin of its natural oils, says Rona.
Dilution ratio: Pay attention to any shampoo that requires diluting it with water, which makes lathering a thicker shampoo easier on your dog. You should check the shampoo bottle or the brand's website and product description to see what specific ratio they recommend (if any).
Best shampoos for dogs
Below, experts share their recommendations for the best dog shampoos. Each of the following are made from a dog-specific formula and have gentle and moisturizing ingredients, based on expert guidance. 
Best dog shampoo overall: Earthbath
Earthbath Oatmeal & Aloe Dog & Cat ShampooThis hypoallergenic dog shampoo is a Select's Best for Your Pet award winner and is made with oatmeal and aloe vera, making it a great option for dogs of all coat types, according to our experts — it's a favorite of Jun Takama, CEO and founder of DOGMA, a dog daycare and grooming service based in New York City. You can use this shampoo straight out of the bottle (a little goes a long way) or dilute it with water — the brand recommends mixing the shampoo with water in a separate container at a 10:1 dilution ratio (water to product) for the 16-ounce.
I use this shampoo on my 5-year-old havanese and bichon frise mix, Bella, because it's gentle on her sensitive skin and has a pleasant vanilla and almond scent that isn't overpowering. Her fur also feels fluffier and softer after using this shampoo compared to others I've tried in the past. Since Bella has long, curly hair, I pair this shampoo with Eartbath's Oatmeal and Aloe Conditioner to keep her fur soft and tangle-free. 
Best all-in-one dog shampoo: Zoop
This Zoop option won Select's Best for Your Pet award for the best dog shampoo we tried. NBC Select commerce analytics manager Amanda Smith found that it made bathtime with her 2-year-old rat terrier mix, Mac, easy because she didn't have to use a lot of product to get a good amount of lather. It also did a great job at cleaning dirt, debris and sweat from my dog Bella after a long day at the park, and she smelled fresh for days afterward. The formula has aloe vera, vitamin E and glycerin to moisturize the skin, detangle fur and prevent shedding, according to the brand. 
Best dog shampoo for dry, itchy coats: Burt's Bees
This dog shampoo from Burt's Bees has colloidal oatmeal, which is gentle and a great ingredient to relieve dry, itchy skin, according to Takama. NBC Select social commerce editor Sadhana Daruvuri also uses this shampoo on her 1-year-old maltipoo, Bandit. "His fur always feels extra soft after I use it," she says. I also tried this shampoo on Bella and found it was gentle, left her fur hydrated and fluffy, and made her hair smell great without being too overpowering thanks to its subtle honey scent.
Best dog shampoo for allergies: Douxo
Duoxo's range of shampoos, including the brand's antibacterial, ultra-gentle and odor-control formulas, are a favorite among our experts. "The Douxo brand products help protect the skin barrier and help soothe any skin conditions based on veterinary exam and diagnosis," says Mayhew. Skin conditions the brand targets include dry, itchy and flaky skin. This soothing option is a great choice for dogs with sensitive, allergy-prone skin, according to the veterinarians we spoke to. It has a 0.75% concentration of ophytrium, a natural ingredient that helps strengthen the skin barrier, according to the brand. The brand recommends using one pump for every 4 pounds your dog weighs and gently massaging the shampoo onto the skin.
Best dog shampoo for shedding: Arm & Hammer
This shampoo has omega fatty acids, which help loosen tangles and control shedding for double-coated breeds, says Dr. Zay Satchu, a board-certified veterinarian and the co-founder and chief veterinary officer of Bond Vet. This shampoo has a citrus and sea mineral scent, and it contains small amounts of baking soda to act as a natural pet odor eliminator, according to the brand.  
Best hydrating dog shampoo: iGroom
This hydrating all-in-one shampoo and conditioner is recommended by Rona, who says it moisturizes all coat types using ingredients like hydrolyzed keratin and vegetable proteins. The brand recommends diluting the product at a ratio of 16 parts water to one part shampoo. 
Best dog shampoo for long-haired dogs: Isle of Dogs
This shampoo is a favorite of Satchu's because it doesn't contain harmful ingredients like parabens (which are chemicals typically used as artificial preservatives), sulfates or artificial fragrances. It's especially great for long-haired and curly coat breeds because it has a combination of oatmeal and jojoba oil that soothes dry skin and leaves your dog's coat hydrated, silky and soft, according to the brand.
Best shampoo for puppies: Earthbath
Earthbath Ultra-Mild Wild Cherry Puppy Shampoo
This shampoo from expert-recommended brand Earthbath has a gentle soap-free formula that's specifically formulated for puppies over 6 weeks of age. It has aloe vera, antioxidants like vitamin E and plant-derived coconut-based cleansers to soothe delicate skin and relieve any itchiness, according to the brand. It's free of parabens, sulfates, phthalates, alcohol and synthetic dyes, which experts say can irritate your dog's skin, and it also has a small amount of cherry essence for fragrance. Similar to the original Earthbath shampoo, the brand recommends a 10:1 dilution ratio.
Best splurge dog shampoo: Doglyness
Doglyness Immortelle Rejuvenating Shampoo
Though Doglyness' line of shampoos and conditioners are pricier, they're very effective at cleansing and conditioning your pup's coat, says Rona, who uses the brand in her dog grooming studio. The brand's Immortelle Rejuvenating Shampoo has a combination of natural, plant-based ingredients, including aloe and glycerin, to cleanse your dog's hair, according to the brand. Doglyness recommends a dilution ratio of up to one part product to 25 parts water.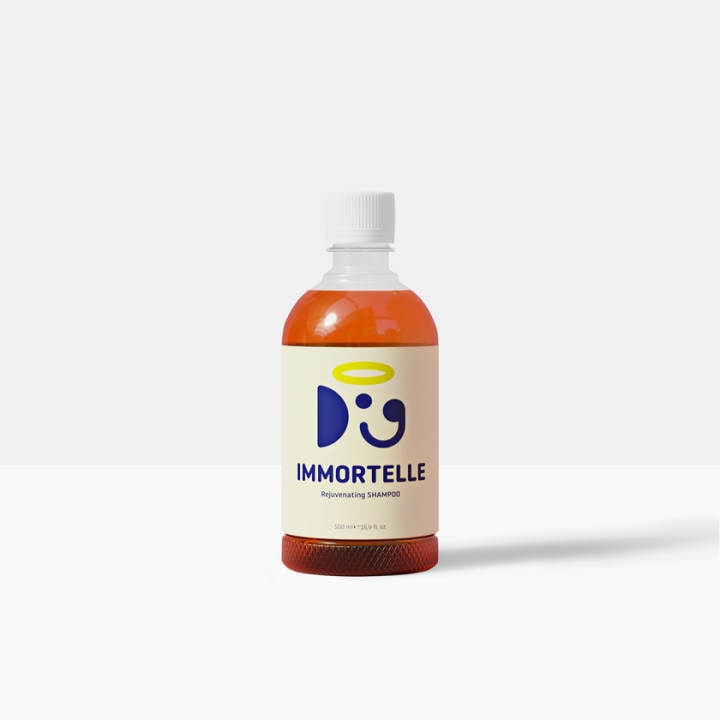 Best dry shampoo: Wild One
This dry shampoo comes in a rinse-free spray formula that's hypoallergenic, so it won't cause allergies or irritation on your dog's sensitive skin, according to the brand. Daruvuri sprays this shampoo on Bandit to keep him smelling fresh in between baths (she usually bathes him every 3-4 weeks). To apply, hold the nozzle 3-5 inches away from the dog's coat and spray it in a sweeping motion starting at the neck and working toward the tail. You can purchase one bottle or bundle two or three bottles for a discounted price, and you can subscribe to receive automatic shipments of the product every four, six or eight weeks on Wild One's site.
How to shop for a dog shampoo
When shopping for the right shampoo for your dog, our groomers and veterinarians recommend keeping in mind factors like ingredients, your dog's coat type and any skin concerns.
Breed and coat type
Dogs have a variety of coat textures, including short, long, curly, wiry or double coats. "Each texture has different needs, and using the right shampoo can help enhance the coat's natural beauty and texture," says Satchu. Below are some examples of coat types and textures, and what shampoo to use for each.
Short-coated breeds: Dogs with short hair, like boxers and dalmatians, generally have low-maintenance coats but they can still benefit from shampoos that gently cleanse while maintaining the natural oils of the skin, according to Satchu. For short-haired dogs, consider shampoos with moisturizing ingredients like oatmeal or aloe vera.
Long-coated breeds: These include Afghan hounds and Yorkshire terriers, and often require more frequent grooming to prevent the hair from tangling (but no more than once every two weeks, according to our experts). Shampoos with conditioning and hydrating ingredients like shea butter and oatmeal help detangle hair to make grooming easier and keep the coat looking sleek, says Satchu.
Curly-coated breeds: For dogs with curly coats, including poodles and bichon frises, use shampoos that offer deep moisturizing ingredients like shea butter and coconut oil to prevent dryness and maintain the curls' definition. 
Double-coated breeds: Breeds with double coats, like huskies, samoyeds and golden retrievers, should use a shampoo that helps manage shedding to keep their undercoat healthy. Look for shampoos with omega fatty acids (omega-3 and omega-6, for example) to increase coat health and reduce excessive shedding, according to Satchu.
White-coated breeds: If your dog has a white coat, they will benefit from shampoos that are labeled as coat color brighteners, which contain optical brighteners to make the coat appear whiter and more vibrant, according to Satchu. Some shampoos are also designed to enhance and maintain the colors of other coat types, including black coats or those with unique patterns.
Ingredients 
You should always use shampoos specifically formulated for dogs because human-grade formulas are more likely to cause skin irritation, says Satchu. Generally, look for ingredients like aloe vera or colloidal oatmeal (consisting of finely ground oats), which are gentle, hydrating and have soothing properties, according to our experts. Tea tree oil can also be an excellent nourishing and moisturizing ingredient for your dog's coat, says Takama (though keep in mind that pure, undiluted tea tree oil is not suitable for pets).
Dog shampoos shouldn't contain any harmful ingredients like parabens, sulfates, or artificial fragrances, which are more likely to irritate the skin, says Satchu. And, because dogs have extremely sensitive noses, you should also avoid heavy fragrances in their shampoo, according to Rona.
Skin sensitivities and allergies
Some breeds, like bulldogs and shar peis, are more prone to skin sensitivities and allergies, according to Satchu. These breeds will benefit from hypoallergenic oatmeal- or aloe vera-based shampoos that are specifically formulated for sensitive skin. If your dog has skin irritation, infections or inflammation, you should talk to your veterinarian for a medicated shampoo recommendation, according to Mayhew.
How often should you shampoo your dog?
Experts recommend bathing your dog at least once every three months, but many breeds may require more frequent baths depending on how much time they spend outdoors or any skin or coat problems they might have, according to the American Society for the Prevention of Cruelty to Animals. As a general rule of thumb, you shouldn't bathe your dog more than twice a month because you may strip their coat of natural protective oils, according to our experts.
"Dogs should rarely be bathed unless they are very dirty and the dirt cannot be brushed out," says Mayhew. "Frequent baths can upset the pH balance, disrupt the protective skin barrier and dry out the skin and coat causing chronic inflammation."
Tips for bathing your dog at home
Our experts share a few tips for successfully bathing your dog at home and keeping their coats clean and healthy — including what to do before, during and after shampooing.
Brush your dog before and after bathing. Matting in your dog's coat can trap shampoo, which might cause rashes and sores if it's not thoroughly rinsed out, experts say. For long-coated breeds specifically, you should always brush your dog before bathing to prevent matting, according to Mayhew. However, "if your pet is matted, there is no shampoo that will save the coat — a professional groomer de-matting or shaving are the only options," she says.
Thoroughly rinse off any residual shampoo from your dog's coat. "We recommend rinsing three full times with clean water after lathering and a fourth time with cool water to help the skin and relieve any itching," says Mayhew.
After shampooing, use a cream rinse or conditioner. A common misconception is that people don't need to condition their dog's coat, says Rona. But they're actually important: Conditioners formulated for dogs will help prevent tangles and help keep the coat from collecting dirt, especially on long-coated breeds, says Mayhew.
Avoid using human shampoo or other products not intended for dogs as they can disrupt their natural pH, according to experts. "These can strip their coat of natural oils and cause skin irritation," says Satchu. 
Use a detangling spray after bathing, especially if your dog has a long or thick coat that gets easily tangled.
Meet our experts
At Select, we work with experts who have specialized knowledge and authority based on relevant training and/or experience. We also take steps to ensure all expert advice and recommendations are made independently and without undisclosed financial conflicts of interest.
Why trust Select?
Mili Godio is an editor at Select who covers a variety of pet topics, including dog food, treats and dental chews. For this article, Godio spoke to veterinarians, veterinary technicians and dog groomers about how to shop for the best dog shampoo, and the best ones to shop. 
Catch up on Select's in-depth coverage of personal finance, tech and tools, wellness and more, and follow us on Facebook, Instagram, Twitter and TikTok to stay up to date.