A cat in a Nebraska animal shelter has made headlines for his skill with a door handle, but he's still waiting for an adopter to open their door to him.
"Staff started to go crazy knowing they shut certain doors when they left at night but those same doors would be open in the morning……then today we discovered this," the Capital Humane Society in Lincoln wrote on July 27 on Facebook.
The post included a video of a black cat named Grimsen leaping up and grabbing a door's lever handle with his paws, managing to pull it down to let himself out.
"Grimsen is the ultimate trickster," the shelter wrote.
The cat's adoption listing also cites his ingenuity, calling Grimsen a "VERY smart guy" who "has managed to teach himself how to open lever style doorknobs and walk freely amongst the other shelter cats strutting his stuff."
Early in the morning on the day of the Facebook post, the shelter staff noticed that three different doors were open and Grimsen was strolling the hallway. He was returned to the room he shares with two other cats, but around noon, "Grimsen was spotted walking down the hallway again," veterinary and behaviour assistant Hillary Brandt told HuffPost in a Facebook message.
Not long after, Grimsen was once again returned to his room. This time, he was caught red-pawed opening the door.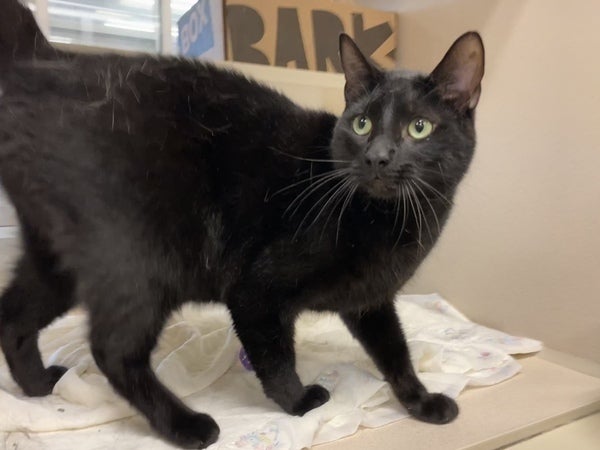 Unfortunately for a freedom-loving feline like Grimsen, it's important that doors remain closed, especially after business hours.
"Doors stay closed at night so we know all cats are behaving properly and not throwing parties after hours, making messes and possibly fighting with others who don't play well with feline friends," said Sierra Kurth, the shelter's fundraising and grants coordinator.
Grimsen had to spend a night in a cat condo inside a locked office before the shelter was able to add a hook apparatus to the doorknob of his regular room to prevent him from getting out ― though he still made an attempt.
The feline's chaos-causing ways were mostly met with approval by those who commented on the shelter's video.
"I'm Grimsen's lawyer," read a top comment from one justice-minded Facebook user. "My client is innocent."
His story made multiple local news headlines, with KLKN-TV declaring him the cat who "can't be contained."
But despite his number of fans, Grimsen, who came to the shelter as a stray in mid-June, was still looking for someone to adopt him as of Friday. Preferably someone with a good sense of humour.
"He is a very active and comical boy," Brandt said.
And despite his exceptional intelligence, Grimsen is no snob. His adoption listing notes that he "loves all the pets that you can give him, even when he has escaped and his presence surprises you."