This article was published in the June 2022 issue of Pet Food Processing. Read it and other articles from this issue in our June digital edition.
The trend toward solution-based formulations has as much to do with consumer perception and evolving pet owner demands as it does with pet health and wellness. The humanization of pets has undoubtedly spurred growth in this category, as several ingredients seen in healthy food and nutritional supplements for people have now made their way into the pet aisle.
Take probiotics as one example. A survey commissioned by Milwaukee-based Chr. Hansen Animal Health & Nutrition in December 2020 found pet owners who take probiotics themselves are more likely to feed their furry companion probiotics as well. According to the research, 61% of pet owners associate probiotics with digestive health, 59% with immune health, 58% with healthy aging, 52% with skin health, and 50% with oral benefits.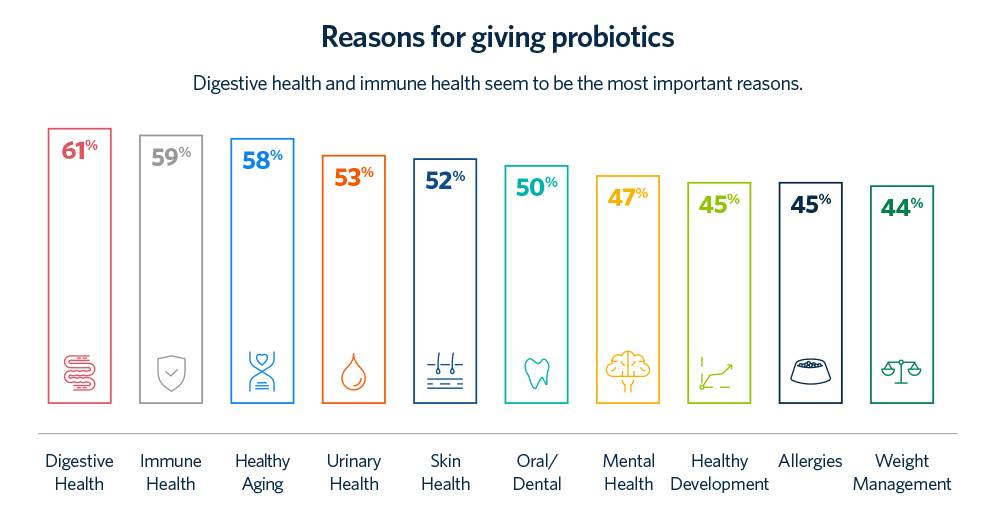 According to Joe Toscano, vice president and director, trade and industry development, Nestlé Purina North America, St. Louis, roughly 40% of pet owners are willing to pay more for a pet food product tailored to their pet's needs. With this apparent demand, the onus is on pet food manufacturers and ingredient suppliers to understand the nuances and needs behind solution-based formulas.
"We believe nutrition starts with understanding nutrients, not just ingredients," Toscano said. "The best ingredients are the ones that work together to enhance one another's performance. A smarter nutrient blend is more digestible and effective for a pet than a single ingredient."
Solution-based pet nutrition means different things to different companies, but the overall goal is to use nutrition to aid an animal with a certain condition, according to Kent Cooper, co-owner, Evolve Consulting Group, Fremont, Neb. The complexity of these formulations ranges from the inclusion of specific ingredients — like sources of Omega fatty acids or certain vitamins and minerals — to veterinary diets backed by thorough research and testing.
"Feeding pets healthy, balanced diets is essential to their health and wellbeing, yet no pet diet, supplement or treat is the same," said Megan Passman, global insights manager, Corbion, Lenexa, Kan. "It is essential to recognize the complexity in today's consumer and their desire for transparency and traceability in everyday life, which includes their pet."
Kambria Newton, trade marketing manager, Petcurean, Chilliwack, British Columbia, noted from Packaged Facts' "Pet Food in the US" report in 2020 that 18% of dog owners and 13% of cat owners switched to a weight management formula over the previous 12 months, while 9% of cat owners and 15% of dog owners switched to recipes that address digestive health issues.
Clearly, pet owners are asking more of the products they feed their pets — and the industry is delivering.
The category is…
Solution-based formulas cover the gamut from species-specific concerns and conditions to broader targeted solutions that can improve a pet's quality of life. Some of the most common pet ailments being addressed include mobility, digestion and gut health, immunity, skin and coat health, weight control, dental health, and anti-inflammatory support, but there are many others on the table.
"There are a wide variety of solution-based formulations," said Lisa Schole, co-owner, Evolve Consulting Group. "It is very common to have a formulation that targets multiple solutions, such as digestive health and skin and coat."
Passman noted obesity, pancreatitis and gastroenteritis as major health issues being addressed by solution-based nutrition. The category also extends to performance diets for active dogs, hairball and urinary health formulas for cats, calming products to address behavior, and life-stage formulations speaking to the unique nutritional needs of growing puppies and kittens and aging animals.
"Like their human counterparts, young dogs and cats have specific nutrition requirements to support their rapid growth and development," Toscano said. "Puppies and kittens' bodies are fast-growing but, unlike babies, they pack all their growth into a few short years. Puppies and kittens need higher levels of calories and protein, DHA, antioxidants and bioactive substances for the first one to two years."
Additionally, some brands are using exotic or non-traditional protein sources such as insects, venison, kangaroo, alligator, pheasant, bison, goat, elk and others, or developing limited-ingredient diets to address food sensitivities in pets.
"Nearly universally, solution-based formulas target the current cadre of pet parents who want to provide what they believe to be the best possible food to their pet babies, at nearly any price," said Steve Lerner, Ph.D., head of North America marketing and product management, Chr. Hansen Animal Health & Nutrition. "This trend of 'exotic and expensive is better' is likely to continue until the science of solution-based nutrition catches up to the market."
"Solution-based formulas target the current cadre of pet parents who want to provide what they believe to be the best possible food to their pet babies, at nearly any price," said Steve Lerner, Ph.D., Chr. Hansen Animal Health & Nutrition.
Pet owners can also use solution-based treats, toppers and supplements to add functional nutrition to an already complete-and-balanced diet.
"The diet is important for overall macro nutrient supply and digestion, and treats and supplements can serve as added bonuses to help pet owners show increased love and support for their animal," said Ryan Boldt, product manager, The Peterson Company, Kalamazoo, Mich.
VICTOR, a line by Mount Pleasant, Texas-based Mid America Pet Food, has built its brand specifically on super-premium nutrition for performance dogs who require science-backed and field-proven nutrition, according to Michael Keith, senior vice president of nutrition and supply chain at Mid America Pet Food.
Keith highlighted hip and joint support, skin and coat health, and gut health as three of the most common health concerns for dogs being addressed through nutrition.
"Because we know how important these functional benefits are to pet parents, we've developed our proprietary VPRO® Blend that is included in every bag of VICTOR and was created to specifically address digestibility, immune system function, healthy skin and coat and effective metabolism," he said.
Supporting actors
Essential vitamins and minerals have always played a role in dog and cat food. With solution-based formulas, they are being fine-tuned to address specific health issues. Some brands are optimizing mineral sources to support paw pad integrity and skin and coat health, Schole shared, and the inclusion of prebiotics, probiotics, postbiotics and other nutraceuticals is rising to meet gastrointestinal and immune health demands.
"Just like with humans, probiotics can be beneficial to both cats and dogs," Toscano said. "Probiotics are live microorganisms, similar to those found naturally in the intestines, which help maintain balance in the digestive tract. After being consumed, they help to inhibit harmful pathogens from colonizing the GI tract."
Purina offers several solutions incorporating probiotics to this end, including Purina ONE with Microbiome Balance, Purina Pro Plan FortiFlora and Purina Pro Plan Calming Care Veterinary Supplements. The company's Pro Plan Calm & Balanced dog food also contains targeted levels of fish oil to deliver EPA and DHA, which have been shown to provide behavioral and physical health benefits for dogs.
Superfoods are another tool in the arsenal of solution-based ingredients. Common superfood ingredients seen in the market today include pumpkin, blueberries, flaxseed, turmeric, and other fruits, vegetables, whole grains and seeds.
Lidiia Alaverdova, DVM, head of global marketing and pet portfolio manager of commercial development, Chr. Hansen, noted these ingredients work best in a healthy microbiome, and therefore may need to be combined with probiotics or other functional ingredients to support the release of nutrients and bioactives hidden within these superfoods.
"Superfoods are ingredients that provide extra nutrients, such as minerals, vitamins, phytonutrients, antioxidants, and omega fatty acids, that are not usually found in meats and grains," she said. "We focus on the power of good bacteria to unlock the potential of some of these superfoods by supporting a healthy digestion."
VICTOR's VPRO Blend features prebiotics, probiotics, selenium yeast, organic trace minerals and mineral complexes — formulated at or above recommended rates — to support the health of working dogs. The brand ensures each ingredient in the blend is peer-reviewed and backed by scientific research, Keith noted.
"The extensive scientific support of these ingredients allows us to give confidence to our consumers that the VICTOR formula they're feeding is delivering for their pet," he said.
Open Farm includes turmeric, apple cider vinegar, chamomile, passion flower and vitamin C in its supplement formulas, all of which are natural ingredients intended to serve a solution-based purpose. The company's Supplements for Dogs contain 100% human-grade, non-GMO and fully traceable ingredients and target five key health concerns in dogs: mobility, skin and coat health, immunity, calming, and probiotic support.
"We at Open Farm see transparency as the biggest emerging opportunity in the solution-based formulations space," said Kristen Hatton, brand manager, Open Farm, Toronto. "By putting an emphasis on the transparency of ingredients used, consumers can be more confident in what they are feeding their beloved pets."
The Peterson Company offers proteins with low molecular weight, which work well in hypoallergenic diets, as well as ingredients that contain collagen, an emerging ingredient gaining traction as a rawhide alternative for pet chews or to provide bone and joint support in food and treats.
Another hot topic in this category is the inclusion of Omega fatty acids. According to Corbion, fermented microalgae can be a source of Omega 3 fatty acids in a pet nutrition product. The company is also exploring long chain Omega 3 fatty acids to help manufacturers realize functional formulations.
"It's important to understand the function of ingredients in a recipe — both how they work together and how they can benefit the pet," Hatton said.
Petcurean's GO! WEIGHT MANAGEMENT + JOINT CARE formulas include controlled fat levels and functional ingredients to address mobility and weight in adult and senior dogs and cats, Newton shared. Ingredients in this diet include a fiber-rich psyllium husk and flaxseed to help with satiety, L-carnitine to support heart health and the conversion of fat into energy, and supplemental sources of glucosamine and chondroitin to fortify overall health and wellness in dogs.
The company's GO! DIGESTION + GUT HEALTH formulas also include functional ingredients, including dried chicory root and a three-yeast blend alongside ancient grains, psyllium husk and a patented probiotic bacterium, to support gut health, digestion and stool quality at all life stages.
"In the future, I think we will continue to see more solution-oriented recipes emerge that prioritize other common issues pet owners deal with, such as animal protein allergies, heart health, anxiety and stress and breed-specific issues, among other things," Newton added.
Hidden challenges
The inclusion of nutraceuticals begs the question of resilience. Can fragile ingredients such as probiotics survive through high-heat processing steps all the way to a pet's bowl?
"When it comes to 'living' probiotic ingredients, there are age-old misconceptions that these beneficial bacteria don't survive the manufacturing process to be effective in the digestive systems of our pets," Lerner shared. "Reputable providers of those probiotic products, like Chr. Hansen, diligently find and test those strains of bacteria that can survive in pet food, and that are active and effective in the gut."
Aside from processing considerations, Theresa Lantz, MSc, companion animal nutritionist, Petcurean, said marketing claims can be another pressure point for brands in the solution-based arena. She cautioned processors against moving forward with a grandiose claim until proper research can be conducted on the product's efficacy.
"Marketing claims should always be backed by scientific evidence," said Kristen Hatton, Open Farm.
"Wording is also very important in this industry when making marketing claims," Lantz added. "Changing even the slightest wording without triple-checking how this may affect the meaning or intention from a regulatory standpoint can be a source of confusion."
Boldt also noted cost and reliability along the supply chain as two major challenges. While innovation is important for the industry, novel ingredients with functional benefits should be vetted by research, verified as safe, and backed up by a consistent supply before they are used widely in the market.
"The pet industry, among many others, continues to be affected by inflation and ongoing supply chain issues which can make the procurement of specialty ingredients, such as the ones included in our recipes, challenging," Newton said. "While these challenges are not specific to solution-based formulas, we continue to work closely with our trusted network of suppliers to ensure that we are able to produce our formulations and keep our pricing competitive, even during these uncertain times."
Keith reiterated this point in reference to VICTOR's VPRO blend, which includes ingredients that often come at a premium price.
"Utilizing these premium quality ingredients allows us to deliver the super-premium nutrition that we do, but it is challenging on the operations side when costs rise like they have been with inflation," he said.
As with any new product, safety and efficacy should be reflected first and foremost in a formulation, and brands competing in this category must prioritize the science behind pet nutrition and wellness above all else.
"It is sometimes the case, particularly in markets where considerations of safety as opposed to efficacy are the top priority of regulatory authorities, that marketing claims of 'new, unique, sustainable, fresh, alternative, innovative, immune-boosting, etc.' win the hearts and minds of targeted consumers with a limited amount of corresponding evidence of true efficacy for a stated purpose," Alaverdova said. "Luckily for the consumer, there is so much interest in the pet food industry in finding alternatives to better meet the nutritional needs of our pets that the proper, essential investments in research and science are being made."
Read more about product development, ingredients and formulation.