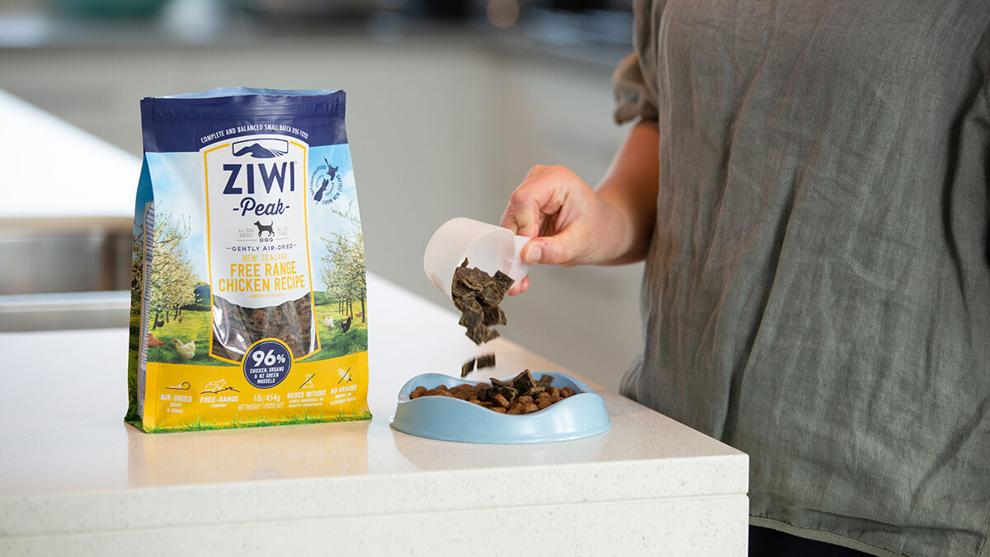 As the innovator and global leader in air-dried nutrition you can count on ZIWI® to deliver a safe and convenient alternative to raw option for dogs and cats around the world. ZIWI's air-dried recipes can be fed as a complete & balanced meal, a nutritious topper, or even a training reward. Topping with ZIWI® Peak is an excellent and affordable way to deliver the nutritional boost that pets deserve! The versatility of ZIWI allows pet guardians of all walks, and dogs and cats of all life stages and breeds to incorporate peak nutrition into their diet on a daily basis.
A little bit goes a long way. If pet parents aren't quite ready to jump into ZIWI as a full feed recipe, but want it to go a bit further than just a tasty treat, we have the solution for them. Sprinkle a bit on regular raw, freeze-dried, or kibble diet and watch them go crazy!
Benefits to Topping Your Pets Bowl with ZIWI® Peak
• ZIWI® Peak 96% meat recipes give your pet the meat they instinctively crave.
• Flavor they will go wild for—who doesn't want their pet to love them with every meal?!
• Easy way to add Powerhouse Superfoods to every meal—there are up to 40% superfoods inclusions in every recipe.
• Packing in nutrients equivalent to raw feeding, all without the mess!
Our recipes and superfoods blend consists of all-natural ingredients like:
• Cold-Washed Green Tripe: Natural digestive aid and source of vitamins, minerals, and amino acids
• New Zealand Green-Lipped Mussels: Natural source of Omega-3 fatty acids as well as glucosamine and chondroitin for skin and joints
• Organs: With industry leading inclusions, our recipes use organs to provide natural nutrients that bolster your pet's health, similarly to what they would instinctually crave to supplement with in the wild.
• Organic Kelp: Natural source of vitamins and minerals
• Natural Taurine: Derived from meat, for heart health
• Omega-3&6: Nutritionally supports long term joint health and healthy skin & coat!
How much ZIWI® should you top with?
All ZIWI® Peak recipes are nutrient and calorie-dense, meaning a little goes a long way. When used as a topper we often recommend replacing 25% of your pet's daily diet with ZIWI, as many veterinarians believe that this inclusion rate is when you can begin seeing transformational benefits, such as a softer and shiner coat. The easiest way to determine the appropriate amount to top your pet's bowl with is to use our feeding calculator to do the math for you.
How do I top?
ZIWI® Peak is a gently air-dried topper, treat, or complete and balanced meal for all breeds and life stages. The beauty of our air-dried food is its simplicity. All you need to do is scoop and serve ZIWI® Peak air-dried on top of a pet's daily meals and prepare to watch it disappear!
No matter how guardians incorporate ZIWI into their pet's diet, we know they will have peace of mind in knowing they are delivering peak nutrition without compromise that not only boosts health, but delivers the ultimate in palatability.