There's very little that dogs won't eat, and sometimes it may be hard to pick a favorite snack, but for this American bulldog, it's an easy decision—it's always got to be McDonald's.
Whenever dog owner Maren Peeters wants to reward her quartet of American bulldogs, there's one delicious treat that will always go down well, particularly with Raffie. Peeters shared a video on her TikTok account (@bundleofbullies) showing exactly how much Raffie loves a McDonald's burger, particularly "the cheese."
The hilarious clip shows Raffie looking content with the entire burger in his mouth, but rather than eating it all at once, he prefers to savor the taste for as long as possible. Even after the McDonald's lover has finished his snack, he still isn't done there because he will then cherish the taste and smell of the packaging that it came in too.
Since the TikTok video was posted on October 26, it has gone viral and delighted millions of social media users, with more than 2.1 million views and 204,900 likes so far. Given how much Raffie loves to eat McDonald's whenever he gets the chance, Peeters, from the Netherlands, has even nicknamed him "McRaffie."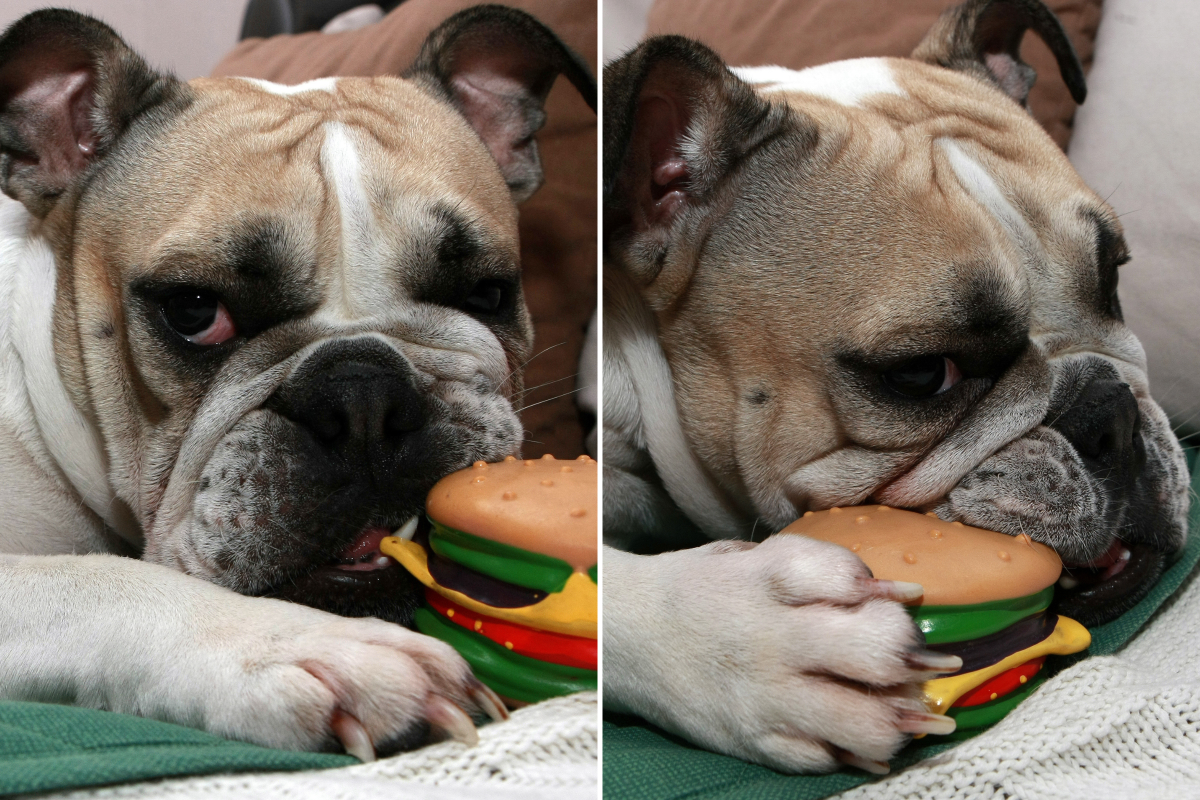 Although Raffie won't be pleased to hear this, owners certainly aren't encouraged to feed their dogs any fast food, or unhealthy human food. Processed foods like McDonald's are incredibly unhealthy for people, and that's no different for dogs either, and the increased calorie intake can cause many negative effects on a dog's health.
Hill's Pet Nutrition explains that feeding a dog human food, including leftovers, can easily cause weight gain, which will often lead to arthritis, diabetes, and heart disease. It's highlighted that a dog should never consume more than 10 percent of his or her daily calorie intake from treats or human food.
Aside from the unnecessary calories, many processed foods contain artificial sweeteners, which can be very harmful to pets, so it's best to avoid anything processed altogether. For owners who are looking to treat their pup with something tasty, Hill's Pet Nutrition insists that they will gladly enjoy some high-quality dog treats instead.
Peeters regularly shares videos of Raffie with his three siblings, Odin, Cupcake, and Pickles, on their social media accounts, much to the delight of their many followers. When Raffie isn't enjoying his hamburger, he is usually playing or snoozing with the other three American bulldogs.
More than 1,200 TikTok users have commented on the viral video since it was posted, with a mix of reactions. Some people loved seeing Raffie's adoration for the fast food, while others were cautious of the potential health dangers it poses.
One comment reads: "Please get him all the nuggets."
Another TikToker responded: "My dog cries every time we pass McDonald's."
"My heart, please don't let him eat that," wrote another TikTok user.
Newsweek reached out to @bundleofbullies via TikTok and Instagram for comment. We could not verify the details of the case.
Do you have funny and adorable videos or pictures of your pet you want to share? Send them to [email protected] with some details about your best friend and they could appear in our Pet of the Week lineup.
Uncommon Knowledge
Newsweek is committed to challenging conventional wisdom and finding connections in the search for common ground.
Newsweek is committed to challenging conventional wisdom and finding connections in the search for common ground.