No one likes being woken up from their sleep, and certainly not one Italian greyhound, who made his feelings very clear at the time.
Jim's owners are only trying to help him when they wake him up during the evening to go outside one last time, to save him waking up the house during the night. But, evidently, Jim doesn't see it that way and would much rather remain snoozing, judging by the frown on his face after being rudely awoken.
To make matters worse, Jim's owner, Mary Hutchison, told Newsweek that it was raining when this video was filmed, saying that it "added an extra layer to his bad mood."
Hutchison, from Sydney, Australia, added: "We have to wake Jim up every night when we're ready to go to bed and let him out for his last pee. Italian greyhounds have tiny bladders, so they need to pee pretty often.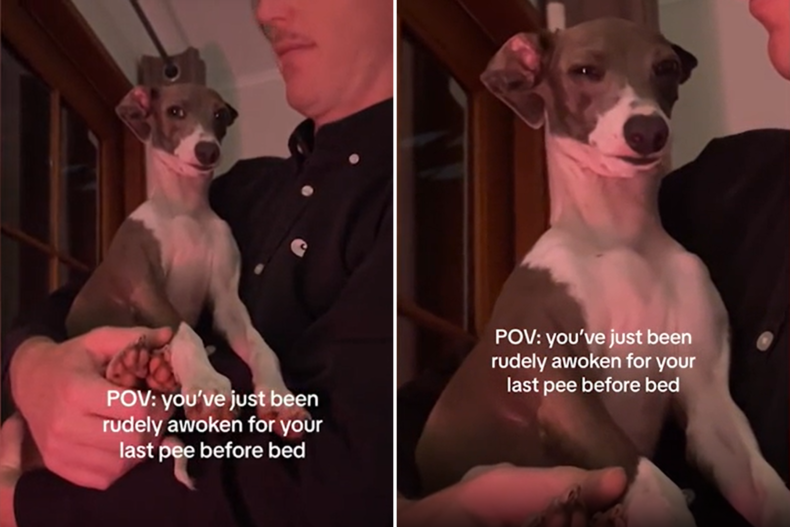 "The look he gives me in the video happens every single time. We feel so bad, but the alternative is that he wakes us up in the middle of the night and needs to go out," Hutchison said.
Despite Jim's protestations, it is recommended that Italian greyhounds get at least 20 minutes of exercise a day, but preferably more. Hill's Pet Nutrition suggests the toy dog breed should be leash-walked multiple times daily, and playtime can also keep them stimulated.
A healthy Italian greyhound has a slender frame that shouldn't exceed 14 pounds in weight and usually reaches up to 14 inches tall. Because of their slight build, Hill's Pet Nutrition says that the breed will much prefer the warmth inside, rather than going out into the cold or inclement weather. When the temperature drops, it's recommended that Italian greyhounds wear jumpers or clothes to keep them warm.
Hutchison shared the video of Jim's reaction on his dedicated TikTok account (@maxlifejim), and it's already amassed more than 2.8 million views and over 607,000 likes in a matter of days. Social-media users couldn't get enough of the filthy look that Jim gave his owners who dared to wake him up.
"The reaction has been funny for us. We didn't expect it on this video, but I guess every dog owner can relate," Hutchison said.
People say you should never wake a sleeping baby, but after this, perhaps that should extend to sleeping dogs as well. Alongside the viral video, the caption read that "he wouldn't go because it was raining," so it was all in vain anyway.
Among the 1,300 comments on the post at the time of writing, one person wrote: "The silence is so loud."
Another comment reads: "That baby was deliriously plotting your demise."
Many fellow Italian greyhound owners also shared their own similar experiences. One commenter posted: "As an iggy owner, I felt this in my soul. Still dealing with this look even with a 2-year-old."
Do you have funny and adorable videos or pictures of your pet you want to share? Send them to [email protected] with some details about your best friend, and they could appear in our Pet of the Week lineup.