Heartbreaking footage has emerged of a 20-year-old dog appearing sad and confused after recently being surrendered to an animal shelter.
Dax, the Weimaraner, was surrendered to Big Dog Ranch Rescue in Florida, after living with his owner for nearly two decades. In a video posted to the shelter's TikTok account in late June, Big Dog Ranch Rescue wrote: "It is unfathomable to think about a loving loyal 20 year old senior dog, at the end of his life span, given up and left confused and heartbroken."
Older dogs face an uphill battle to be adopted from animal shelters, with Pet Pardon, an organization campaigning to bring an end to the use of kill shelters, estimating older dogs spend up to four times longer in shelters than younger ones.
Dax's situation is especially heartbreaking given the length of time he spent with his owner. Big Dog Ranch Rescue first heard about his situation after they were contacted by Walton County Sheriff's Animal Services in DeFuniak Springs in Florida.
As America's largest cage-free no-kill animal shelter, it receives hundreds of requests for help. In the case of Dax, however, Big Dog Ranch Rescue knew his age and circumstances meant it had to intervene, fearing the elderly dog would not survive in a typical shelter environment.
Big Dog Ranch Rescue CEO and founder Lauree Simmons sent a transport team to bring Dax to them. "It broke her heart that a dog of his age was surrendered," a spokesperson for the shelter told Newsweek. "When Lauree founded Big Dog Ranch Rescue 15 years ago she started it as a Weimaraner rescue. She has a special love for this breed but now we rescue every type of dog that needs help."
Despite his advancing years, the shelter was convinced Dax would make a great addition to the right home. "Dax still has a lot of life and love in him," the spokesperson added. "He can get himself up onto a sofa and off again and is steady on his feet with a little assistance at first. He loves his toys and treats and is great with other dogs."
Big Dog Ranch Rescue has already committed to finding Dax the best possible home and covering all his medical expenses, but they wanted to go one step further—they wanted to share his story with the world.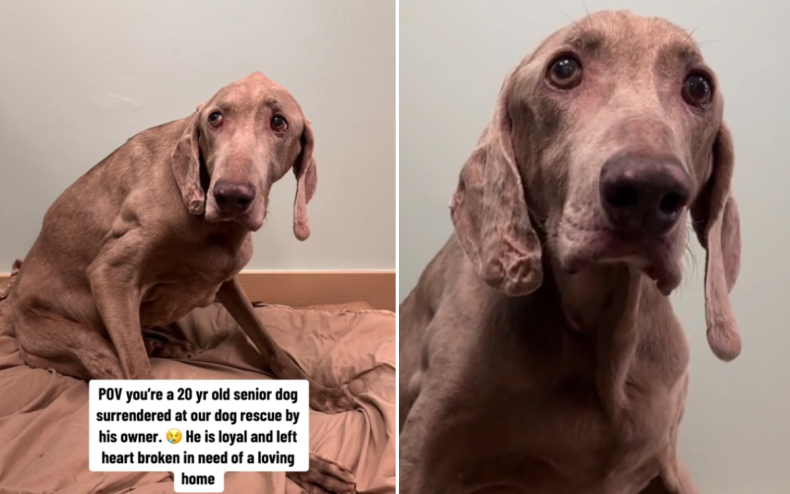 That's why a video, which has over 55,000 views, chronicling his plight was posted to TikTok. It had the reaction intended, with dog lovers flocking to comment on Dax's situation and offer a new forever home.
"I don't understand how someone could get rid of their dog!!" one wrote. "Especially that age!!" A second added: "I'd never surrender any of my furbabies no matter the situation."
Though Big Dog Ranch Rescue has been focused on the construction of a senior sanctuary for dogs like Dax to live out the remainder of their lives, they always hope to find these canines new homes.
Incredibly, that's exactly what has happened with Dax. After spending some time with a temporary foster carer, Jozel, Dax has now been adopted by a new family where he will live alongside several dog siblings.
For Big Dog Ranch Rescue, Dax's story is a reminder of two things.
"Adopting older dogs can be rewarding and with many having more mellow personalities these animals make perfect companions," the shelter spokesperson said.
Secondly, dog owners have a responsibility to care for their pets physically and emotionally. "They are not just dogs—they are our children and our family members who love us unconditionally and remain forever loyal, asking for little in return," the spokesperson added.
Do you have funny and adorable videos or pictures of your pet you want to share? Send them to [email protected] with some details about your best friend and they could appear in our Pet of the Week lineup.