A video of a "cat hotel" set up for stray felines has gone viral on TikTok.
A message overlaid on the clip shared by TikTok user @lilytheskunk on November 8 reads: "I set up a stray cat hotel in my garage."
The footage shows a floor scattered with food bowls and cat beds, while a few cat enclosures are shown stacked next to each other. One feline is seen laying on the floor, while another is sitting inside one of the enclosures. The camera later zooms in on an enclosure where what appears to be an opossum is shown snoozing inside. A message overlaid on the clip reads, "We don't check ID," as the video ends.
Every year, around 3.2 million cats enter shelters across the country, according to 2019 data compiled by the American Society for the Prevention of Cruelty to Animals (ASPCA).
Strays animals are "often found on the streets and brought in by Good Samaritans or local law authorities" and "unchecked stray populations tend to grow in areas without accessible and affordable spay/neuter services," the ASPCA says.
Among the millions of animals entering shelters and rescues across the U.S., adult cats and neonatal kittens (newborns aged up to around 4 weeks old) form a large portion of those in need of a home, says the Humane Society of the United States. The nonprofit adds that some stray cats may be friendly and approach you for food or attention, while others may be too scared to let you get close.
Dr. Jose Arce, the president of the American Veterinary Medical Association, told Newsweek in May 2022 that "the temptation to rescue a stray cat can be strong," but you should use caution when approaching an unknown cat.
The cat may be fearful and any attempts to capture it could see you injuring yourself or the cat if they try to get away or protect themselves, Arce added.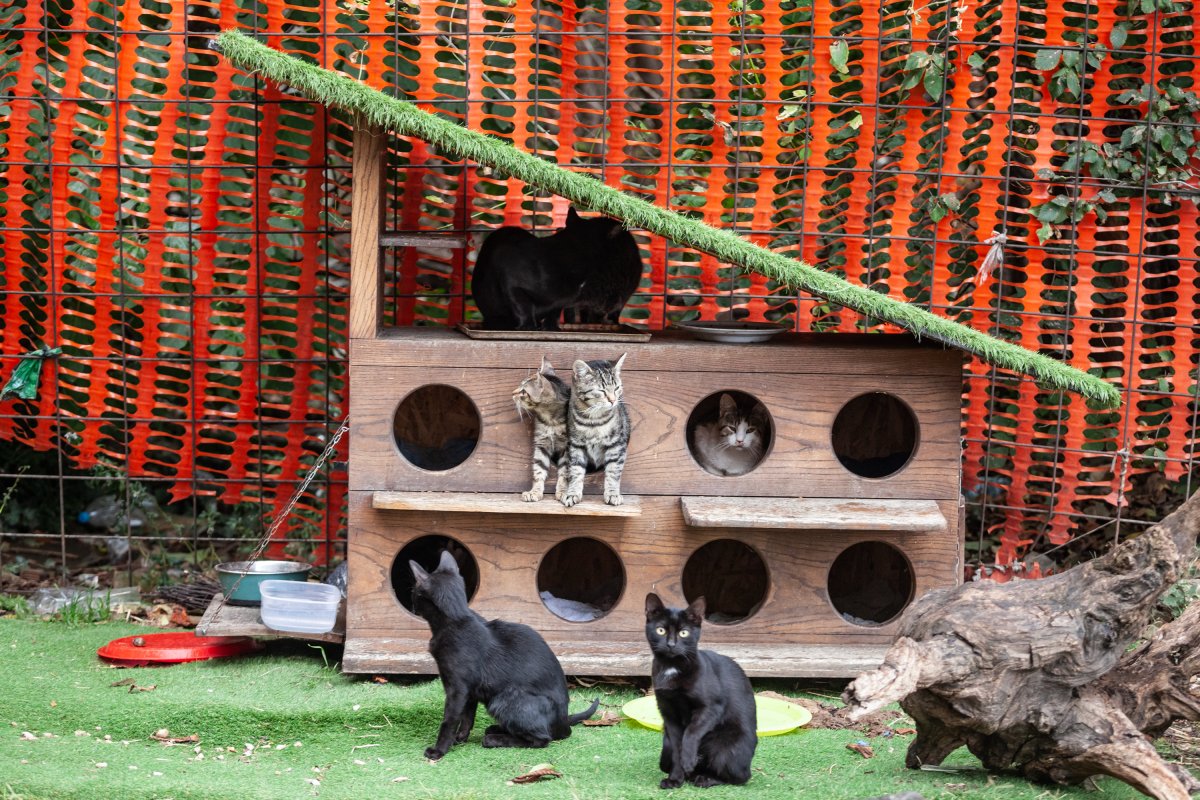 Users on TikTok were amused by the cat hotel setup in the latest viral clip, with several adoring the opossum.
Aliixx wrote: "I love how all the cats are so unbothered by the opossum."
User @dezzybaby850 posted: "My cats love their opossum friend! They even share their food!"
Stefni Shive commented: "That opossum needed to rest too. Thank you for letting him stay, they really are harmless animals!"
7car0lina4 wrote: "That opossum is getting the best night's sleep of his life."
Ashley Cardenas agreed, saying "That opossum is having the best sleep. He's had in ages.! hats off to you. That's an awesome idea."
Gemma Stead wrote: "I'm no expert but I'd go as far as to say.. that opossum is thriving."
Newsweek has contacted the original poster for comment via TikTok. This video has not been independently verified.
Do you have funny and adorable videos or pictures of your pet you want to share? Send them to [email protected] with some details about your best friend, and they could appear in our Pet of the Week lineup.
Uncommon Knowledge
Newsweek is committed to challenging conventional wisdom and finding connections in the search for common ground.
Newsweek is committed to challenging conventional wisdom and finding connections in the search for common ground.