This year marked the 25th Anniversary of the fun and hilarious "Great PUPkin Dog Costume Contest" in Fort Greene Park!
This past Saturday, the cherished Great PUPkin Dog Costume Contest welcomed dog lovers and owners to Fort Greene Park to watch as various dogs and their owners showcased their creative Halloween costumes. 
The event was hosted by the Fort Greene Park Users and Pets Society (PUPS), a society of more than 1,500 dog lovers dedicated to the dog owners and dogs who frequent Fort Greene Park. Each year the competition welcomes over 100 contestants vying for the coveted winner title. 
This year of the Great PUPkin Dog Costume Contest is especially monumental: It is the 25th anniversary of the competition, started by friends Kath Hansen and Amy Hecht. 
"Every year, the creativity and all the costumes get crazier; I'm always more and more impressed," said Ari Gomez, a Brooklynite who attends the competition every year. "I've been coming here since I moved to Bed-Stuy from Texas, so about five years now. The PUPkin is now a part of my 'Halloweekend' routine now. Every year my mind is just blown with what people can come up with."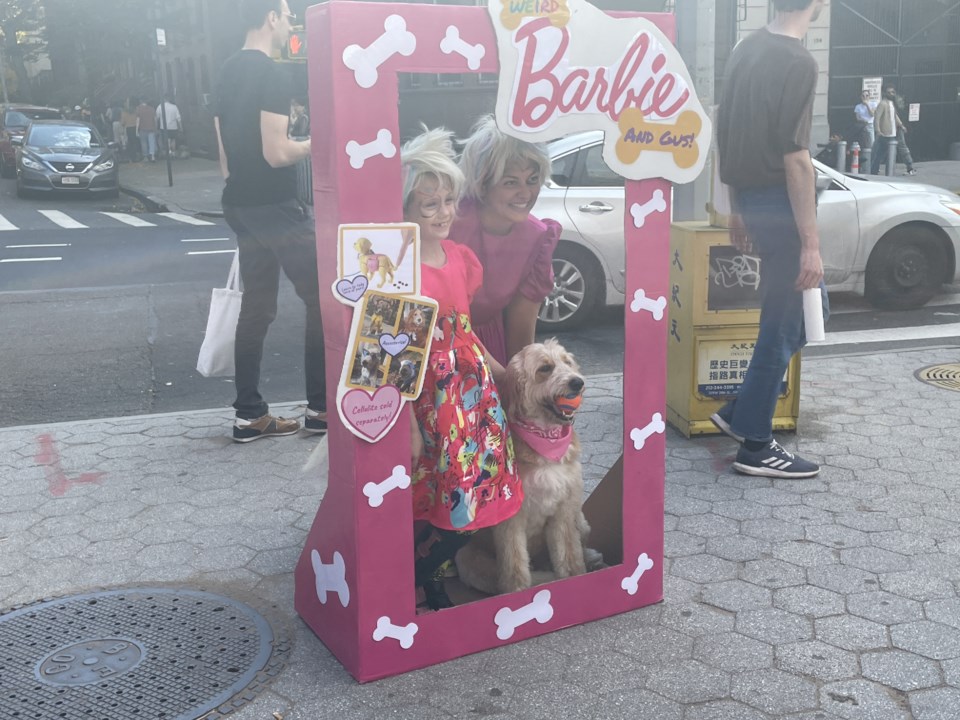 Since its founding, PUPS has advocated for dog-friendly water fountains, dog poop bag holders around the park, off-leash hours and overall better accommodations for the dogs that frequent the park. The proceeds from this event go toward these initiatives. 
This event was hosted by Brooklyn-based comedians Torey Strahl and Dan Fox, who provided the large audience with dog jokes and music as they helped introduce the contestants.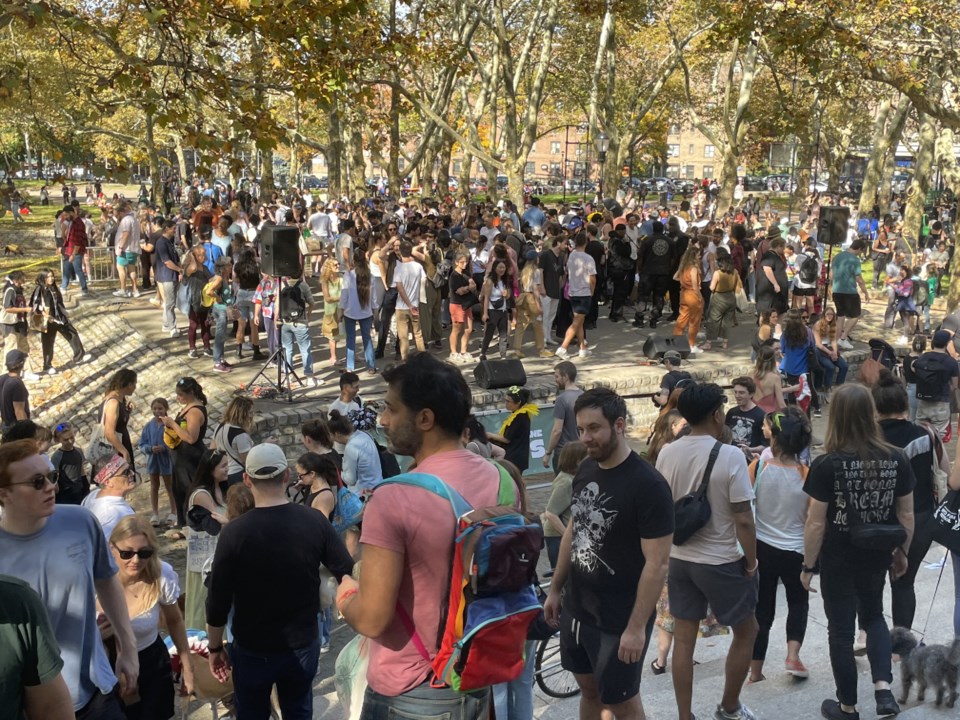 District 35 Councilmember Crystal Hudson, Pitchfork Executive Editor Amy Phillips, Senior Programmer at Tribeca Film Festival Faridah Gbadamosi and Board Chair Joylynn Holder of the Fort Greene Park Conservancy were the judges for this year's competition.
This year's winner was an 18-year-old chihuahua named Gertie dressed in a mini version of David Byrne's big suit from Talking Heads' 1984 concert film, "Stop Making Sense." The competition winner is based on audience applause levels and judge reactions.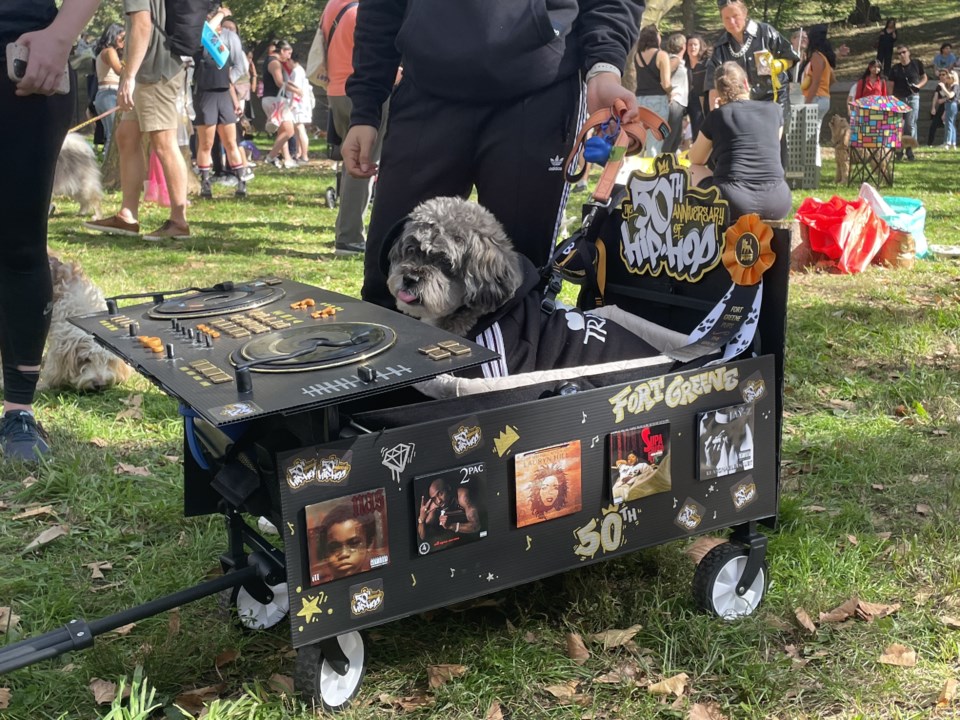 ​Other costumes recognized by this year's judges and crowd included a dog dressed as a DJ with a tracksuit and turntable in honor of hip-hop's 50th anniversary and a dog dressed as Tom Fruin's water tower sculpture in DUMBO.
Dogs who won judge recognition also included a dog dressed as the Times Square New Year's Eve ball drop, a dog dressed as an orca whale eating a boat that said "Sink the rich," a dog dressed as a panda, a dog dressed as Missy Elliott from her video for her 1997 hit "The Rain (Supa Dupa Fly)" and a worker at the "Fritoe" factory with a working Frito chips conveyor belt attached.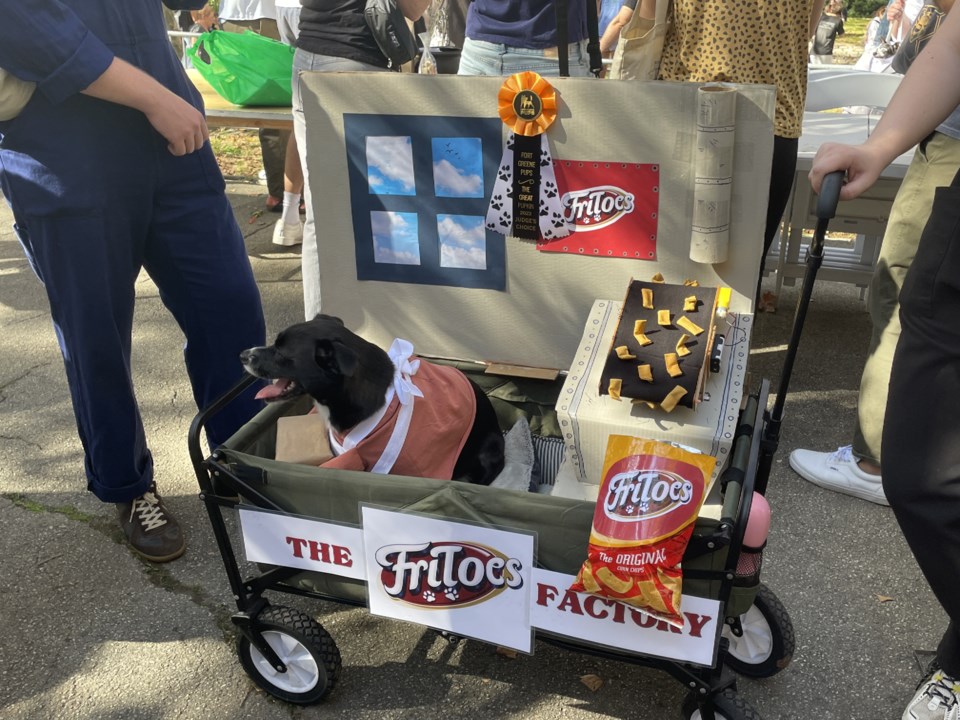 Each of the recognized costumes received "2023 Judges Choice" award ribbons, while Gertie received the grand prize of a bag of treats and toys and this year's bragging rights. 
"Next year, I'm totally stepping our game up," said Jordan Mallory, who attended the competition with her dog, Sadie, dressed as a bat. "It's always fun and good vibes when we come, and it's so nice getting to see all my doggy friends I usually see around the park, all dressed up and cute and festive."